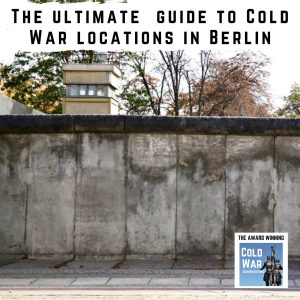 Jonny Whitlam has been a Berlin tour guide since 2010, and since then he's been showing travellers from across the world the fascinating history of Berlin.
Listen on Apple PodcastsListen on SpotifyListen on Google PodcastsBecome a Patron!
We met via social media after I noticed his great videos describing well-known and lesser know 20th-century historical locations in Berlin.
We discussed doing an episode to help you see Cold War Berlin sites without needing a tour guide and this episode is the result. However, if you would like a personal tour check out Jonny's tours on this link. Book your Berlin private tour experience now (whitlams-berlin-tours.com)
Jonny is keen to share his Berlin's amazing history with everyone and he has put together The Ultimate Guide to Cold War Berlin which includes an amazing Google map of 75 Cold War sites in Berlin. Despite the name, this list is not exhaustive and we'd welcome suggestions for anything you think we may have missed!
---
The fight to preserve Cold War history continues and via a simple monthly donation, you will give me the ammunition to continue to preserve Cold War history. You'll become part of our community and get a sought-after CWC coaster as a thank you and you'll bask in the warm glow of knowing you are helping to preserve Cold War history.
Just go to https://coldwarconversations.com/donate/
If a monthly contribution is not your cup of tea, We also welcome one-off donations via the same link.
---
Episodes mentioned.
The Bridge of Spies Spy Rudolf Abel
Operation Gold Berlin Spy tunnel
The Happy Traitor – The Life of Soviet Spy George Blake
Gail Halvorsen – The Candy Bomber
The Treptower Park microlight escape video
Find the ideal gift for the Cold War enthusiast in your life! Just go to https://coldwarconversations.com/store/
Support the project! https://coldwarconversations.com/donate/
Follow us on Twitter https://twitter.com/ColdWarPod
Facebook https://www.facebook.com/groups/coldwarpod/
Instagram https://www.instagram.com/coldwarconversations/
---
A selection of Jonny's videos