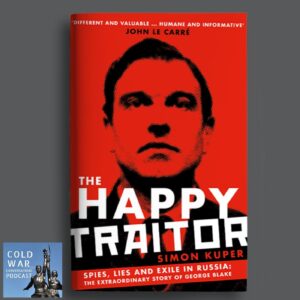 I talk with acclaimed author and journalist Simon Kuper, has written The Happy Traitor, the story of British spy and Soviet Union double agent George Blake, the last major British traitor of the Cold War.
A deeply human read, wonderfully written, on the foibles of a fascinating, flawed, treacherous and sort of likeable character.' Philippe Sands
In 1961, Blake was sentenced to forty-two years imprisonment – at the time, the longest sentence in modern British history. He had betrayed all the western spying operations that he knew about to the KGB. This included the names of hundreds of British agents working around the world. About forty of them are believed to have been executed. Blake is reckoned to have done as much damage to British interests as did his Moscow companions Kim Philby and Donald Maclean – perhaps more.
Today, his story is known only to a few experts, and only insofar as anything can be known for certain in the world of deceit that is spying. MI6 has never made its files on him public. Now that the master spy has died, Simon Kuper finally sets the story straight. He unravels who Blake truly was through a combination of personal interviews, research in many languages, and use of almost unseen Stasi archives. His illuminating biography tracks Blake from his beginnings as a teenage courier for the Dutch underground during the Second World War, to his sensational prison-break from Wormwood Scrubs, to his tranquil old age in a dacha outside Moscow, where Kuper caught up with and interviewed him.
Kuper says: 'I went to see him in his dacha in May 2012, expecting just to write an article for a Dutch newspaper. I left several hours later thinking, "This is the most interesting interview I have ever done." Blake's life tracks so much of the twentieth century: fighting in the Dutch Resistance, working for the British secret services in World War Two, captivity in North Korea, spying for the KGB, prison in London, an escape so spectacular that Hitchcock spent his last years trying to make a film about it, and then living in Moscow with the reality of communism alongside Kim Philby and Blake's soulmate, Donald Maclean. No wonder he fascinated John Le Carré. I spent years researching Blake. He charmed and revolted me. I have wrestled with that ambivalence in this book.'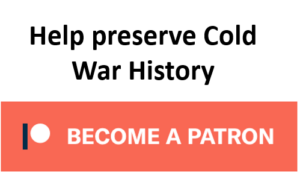 Profile Books have kindly provided 3 copies of "The Happy Traitor" to give away!
** Note: Profile Books has only made this giveaway available to UK and Ireland listeners **
To be in with a chance to win a free copy of the book you will need to do at least one of the following before 2300 GMT 27th Feb 2021:
Twitter – Follow us and retweet our book giveaway link.  Here is our  twitter profile
Facebook – Follow us and share our post using the hashtags #happytraitor and #coldwarconvo
Instagram – Follow us on Instagram , like our  post and tag at least two friends in the comments. Make sure you use  the hashtags #happytraitor and #coldwarconversations
Mailing List – Join our mailing list and email us at ian "at" coldwarconversations.com to let me know you want to be entered.
Winners will be selected randomly 28th Feb 2021. If you are winner You will be notified directly if you have won. Please note if you are a winner your details will be passed to Profile Books to facilitate book delivery. Good luck!