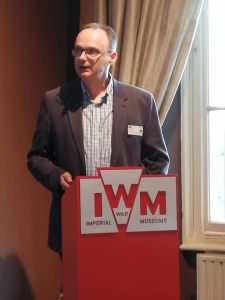 About Ian
Ian is an award-winning podcaster and Fellow of the Royal Historical Society. His podcast, Cold War Conversations is internationally renowned and has a roster of unique interviews with spies, civilians, journalists, authors, and the military.
He has also produced podcasts for the Imperial War Museum and the Avro Heritage Museum as well as being a regular speaker at the Manchester Military History Society.
Why Ian?
Ian is an experienced public speaker and uses archive photos, audio, humour, and a genuine enthusiasm for the topics to provide a fascinating insight into his subjects. Ian provides detailed but easily accessible mainly Cold War and World War 2 history talks. The talks are suitable for all ages and genders and last between 60-90 minutes depending on your requirements.
He lives in Manchester and will happily travel UK-wide. Ian can also offer virtual presentations via Zoom. These are fully facilitated by Ian, all the participants need to do is click on the link sent to them, sit back, and enjoy the talk.
Who are the talks for?
Ian's talks are designed to be of interest to everyone whether or not they have a direct interest in the subject. They are delivered in an entertaining manner without jargon and Ian is always willing to take questions at the end.
---
Please email me ian "at" coldwarconversations.com for pricing.
Current talks include:
Cold War
Cold War Spies
Manchester and the NW during the Cold War
1983 – the year the Cold War almost turned hot
Women's stories of the Cold War
Aviation Stories of the Cold War
World War 2 
Manchester during World War 2
World War 2 invasion defences of Northwest England
The 1944 Warsaw Uprising
---
Testimonials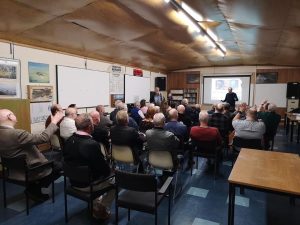 Ashton & Sale Historical Society "I would like to extend my thanks for your fascinating and well-illustrated talk on Invasion Defences. Your talk certainly captivated our members as you may have realised by the large number of questions raised after your talk. Our membership feedback was extremely positive and I would certainly recommend your talk to other local or social history groups."
The Manchester Military History Society "Probably our best crowd ever! Ian brought along many of his podcast fans and delivered a very entertaining and engaging talk about 1983 – the year the Cold War almost turned hot."
The Manchester Centre for Regional History (MCRH) "Brilliant talk! Very well pitched. Everyone I spoke to afterwards really enjoyed it"
Manchester Histories Festival "A 'tour de force" "A thoroughly interesting and professional talk with those human touches."