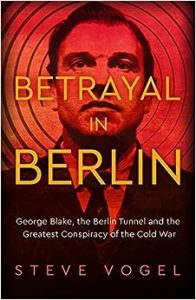 Operation Gold (also known as Operation Stopwatch by the British) was a joint operation conducted by the American Central Intelligence Agency (CIA) and the British MI6 Secret Intelligence Service (SIS) in the 1950s to tap into landline communication of the Soviet Army headquarters in Berlin using a tunnel into the Soviet-occupied zone.
Steve Vogel is a veteran journalist who reported for the Washington Post for more than two decades. He is also the author of Betrayal in Berlin a new book that tells the story of Operation Gold.
---
Now I'm sure you are enjoying your weekly dose of Cold War history, and you'd like to continue to do so.
So I'm asking if you wouldn't mind supporting us by paying at least $3 USD a month – higher amounts are welcome too. It's very straightforward and you can stop whenever you want. Plus monthly supporters get the sought after CWC coaster too!
Just go to https://coldwarconversations.com/donate/ 
---
Back to today's episode, Steve's dogged research unearthed recently declassified documents in U.S., British and German archives, many of them secret for half a century. He interviewed dozens of key participants many of whom had never spoken before about their roles.
We welcome Steve Vogel to our Cold War conversation…If you like what you are hearing, please leave reviews in Apple podcasts and share us on social media.
If you can't wait for next week's episode do visit our Facebook discussion group where guests and listeners continue the Cold War Conversation. Just search Cold War Conversations in Facebook.
Thank you very much for listening.
Support the Podcast and get access to exclusive extra content 
Available on our Patreon page here