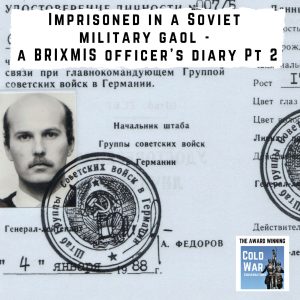 This is the 2nd part of my interview with Lt Col. Stephen Harrison, MBE who served for two years as a full-time Touring Officer with BRIXMIS. The tours were hazardous three-man, vehicle-borne patrols collecting intelligence on the Warsaw Pact forces in East Germany for up to five days and nights over a series of four-month patrolling periods.
In this episode, we hear of Stephen's imprisonment in a Soviet Army gaol, following detention in a Soviet Army garrison town as well as East German and Soviet Army press coverage about his activities.
Listen on Apple PodcastsListen on SpotifyListen on Google PodcastsBecome a Patron!
Stephen's speciality was using his language skills to engage and befriend opposition troops and thereby gaining valuable intelligence. He used to go into bars frequented by Soviet officers and recalls one particular drunken night in Potsdam..
We also hear about his visit to the infamous World War 2 prison camp of Colditz castle where he befriends the staff enabling other BRIXMIS tours to visit regularly.
Stephen also shares details of the top-secret Operation Tomahawk, a particularly unpleasant mission which may not be for those of a sensitive disposition.
In later years Stephen obtained his Stasi file which reveals that the surveillance on him was far closer than he'd ever believed.
Don't miss part 1  of this fascinating interview here. https://coldwarconversations.com/episode250/ 
Cold War history is disappearing; however, a simple monthly donation will keep this podcast on the air. You'll become part of our community and get a sought-after CWC coaster as a thank you and you'll bask in the warm glow of knowing you are helping to preserve Cold War history. 
Just go to https://coldwarconversations.com/donate/
If a financial contribution is not your cup of tea, then you can still help us by leaving written reviews wherever you listen to us as well as sharing us on social media. It really helps us get new guests on the show.
I am delighted to welcome Stephen to our Cold War conversation…
Episode notes here https://coldwarconversations.com/episode251/
Follow us on Twitter here https://twitter.com/ColdWarPod
Facebook here https://www.facebook.com/groups/coldwarpod/
Instagram here https://www.instagram.com/coldwarconversations/
If you can't wait for next week's episode do visit our Facebook discussion group where guests and listeners continue the Cold War Conversation.