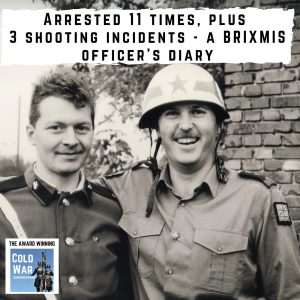 Lt Col. Stephen Harrison, MBE served for two years as a full-time Touring Officer with BRIXMIS. These Tours were hazardous three man, vehicle-borne patrols collecting intelligence on the Warsaw Pact forces in East Germany for up to five days and nights over a series of four-month patrolling periods.
They lived in the field and did not carry weapons while Soviet and East German troops were nearly always armed, and their ever-present sentries carried live ammunition. The Tours operated in the closest proximity to these hostile and aggressive Warsaw Pact troops whose orders permitted them to use whatever force necessary, including opening fire, to protect the property they are guarding.
Listen on Apple PodcastsListen on SpotifyListen on Google PodcastsBecome a Patron!
We hear in detail about  Stephen's experiences in these demanding and frequently dangerous situations, as well as how he used his language skills to engage and befriend opposition troops gaining valuable intelligence which made him a particular threat to the Soviets.
Don't miss Part 2  of this fascinating interview next week.
Cold War history is disappearing; however, a simple monthly donation will keep this podcast on the air. You'll become part of our community and get a sought-after CWC coaster as a thank you and you'll bask in the warm glow of knowing you are helping to preserve Cold War history. 
Just go to https://coldwarconversations.com/donate/
If a financial contribution is not your cup of tea, then you can still help us by leaving written reviews wherever you listen to us as well as sharing us on social media. It really helps us get new guests on the show.
I am delighted to welcome Stephen to our Cold War conversation…
Follow us on Twitter here https://twitter.com/ColdWarPod
Facebook here https://www.facebook.com/groups/coldwarpod/
Instagram here https://www.instagram.com/coldwarconversations/
If you can't wait for next week's episode do visit our Facebook discussion group where guests and listeners continue the Cold War Conversation.