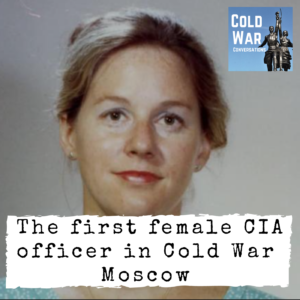 Marti Peterson was the first female CIA operative to be assigned to Moscow, probably the most challenging posting during the Cold War.
Listen on Apple PodcastsListen on SpotifyListen on Google PodcastsBecome a Patron!
Her story begins in Laos during the Vietnam War where she accompanied her husband John, a CIA officer. She describes their life in a small city in Laos, and the devastating news she received on October 19, 1972.
Marti returned to the United States and one night at dinner a good friend suggested she look into working for the CIA.
After making it clear to CIA recruiters that she didn't want to be a secretary or an admin assistant they trained her to become an operative, effectively a spy. When Marti was posted to Moscow during the day, she worked as a diplomat at the U.S. Embassy. At night, on weekends and during her lunch breaks, she would report to the CIA station in the same building to do her work as an operative.
Buy the book here https://uk.bookshop.org/a/1549/9780983878124
Cold War history is disappearing; however, a simple monthly donation will keep this podcast on the air. You'll get a sought after CWC coaster as a thank you and you'll bask in the warm glow of knowing you are helping to preserve Cold War history. 
Just go to https://coldwarconversations.com/donate/
If a financial contribution is not your cup of tea, then you can still help us by leaving written reviews wherever you listen to us as well as sharing us on social media. It really helps us get new guests on the show.
I am delighted to welcome Marti Peterson to our Cold War conversation…
Listen to episode 2 here https://coldwarconversations.com/episode237/
Follow us on Twitter here https://twitter.com/ColdWarPod
Facebook  https://www.facebook.com/groups/coldwarpod/
Instagram  https://www.instagram.com/coldwarconversations/
Thank you very much for listening. It is really appreciated – goodbye.
Videos
Support the Podcast and get exclusive extra content
Available on our Patreon page here