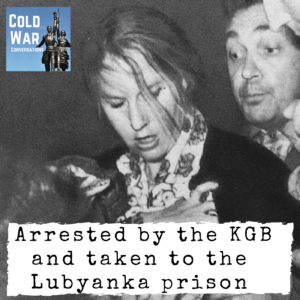 Marti Peterson was the first female CIA operative to be assigned to Moscow, probably the most challenging posting during the Cold War.
Listen on Apple PodcastsListen on SpotifyListen on Google PodcastsBecome a Patron!
This second episode turns to TRIGON, the code name for Alexandr Ogorodnik. He was an official in the Soviet Embassy in Bogota, Columbia recruited by the CIA in 1973. Marti and TRIGON never met in person, but they shared information through dead drops and intelligence. We hear about the tradecraft involved.
Marti is arrested by KGB agents and taken to Moscow's Lubyanka Prison for questioning and talks in detail about that experience.
UK listeners buy Marti's the book here and support the podcast
US listeners buy Marti's the book here and support the podcast
Cold War history is disappearing; however, a simple monthly donation will keep this podcast on the air. You'll get a sought after CWC coaster as a thank you and you'll bask in the warm glow of knowing you are helping to preserve Cold War history. 
Just go to https://coldwarconversations.com/donate/
If a financial contribution is not your cup of tea, then you can still help us by leaving written reviews wherever you listen to us as well as sharing us on social media. It really helps us get new guests on the show.
I am delighted to welcome Marti Peterson to our Cold War conversation…
Follow us on Twitter here https://twitter.com/ColdWarPod
Facebook here https://www.facebook.com/groups/coldwarpod/
Instagram here https://www.instagram.com/coldwarconversations/
Thank you very much for listening. It is really appreciated – goodbye.
Have a look at our store and find the ideal gift for the Cold War enthusiast in your life? Just go to https://coldwarconversations.com/store/
Videos
Support the Podcast and get exclusive extra content
Available on our Patreon page here