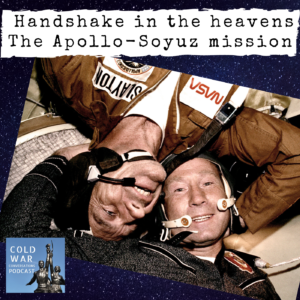 On 17 July 1975 the first manned international space mission, carried out jointly by the United States and the Soviet Union. Millions of people around the world watched on television as a United States Apollo module docked with a Soviet Union Soyuz capsule.
The project, and its memorable handshake in the heavens, was a symbol of détente between the two superpowers during the Cold War, and it is generally considered to mark the end of the Space Race.
Unthinkable only years earlier the Apollo–Soyuz mission was made possible by the thaw Soviet-US relations. According to Soviet leader Leonid Brezhnev, "The Soviet and American spacemen will go up into outer space for the first major joint scientific experiment in the history of mankind. They know that from outer space our planet looks even more beautiful. It is big enough for us to live peacefully on it, but it is too small to be threatened by nuclear war."
Our guest is Cold War Conversations favourite, author Stephen Walker, the author of Beyond: The Astonishing Story of the First Human to Leave Our Planet and Journey into Space.
Do check out our two previous episodes with Stephen.  Yuri Gagarin, the first human in space here https://coldwarconversations.com/episode172/ and the Forgotten Cosmonaut here https://coldwarconversations.com/episode192/
I'm asking listeners to support my work and enable me to continue recording these incredible stories. If you become a monthly supporter via Patreon, you will get the sought after CWC coaster as a thank you and bask in the warm glow of knowing you are helping to preserve Cold War history.
Just go to https://coldwarconversations.com/donate/
If you can't wait for next week's episode do visit our Facebook discussion group where guests and listeners continue the Cold War Conversation. Just search Cold War Conversations in Facebook.
I am delighted to welcome Stephen Walker back to our Cold War conversation…
There's further information here.  https://coldwarconversations.com/episode210/
Thank you very much for listening. It is really appreciated – goodbye.
Support the Podcast and get access to exclusive extra content 
Available on our Patreon page here