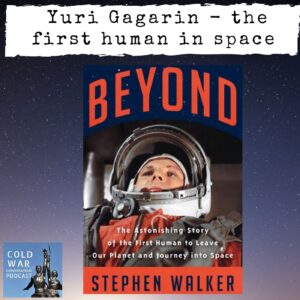 9.07 a.m., April 12, 1961. A top-secret rocket site in the USSR. A young Russian sits inside a tiny capsule on top of the Soviet Union's most powerful intercontinental ballistic missile – originally designed to carry a nuclear warhead – and blasts into the skies. His name is Yuri Gagarin. And he is about to make history.
Travelling at almost 18,000 miles per hour – ten times faster than a rifle bullet – Gagarin circles the globe in just 106 minutes. While his launch begins in total secrecy, within hours of his landing he has become a world celebrity – the first human to leave the planet.
Listen on Apple PodcastsListen on SpotifyListen on Google PodcastsBecome a Patron!
Drawing on extensive original research and the vivid testimonies of eyewitnesses, many of whom have never spoken before, Stephen unpacks secrets that were hidden for decades and takes you into the drama of one of humanity's greatest adventures. Now I thought I knew Gagarins's story, but discovered so much more after reading this book. The episode just scratches the surface and there is so much more in the actual book Stephen and I could have talked for hours.
This podcast wouldn't exist without the generous support of our Patreons If you are enjoying the podcast, and want to continue to hear it please support me via a small (or large) monthly donation. Plus, you will get the sought after CWC coaster as a thank you and bask in the warm glow of knowing you are helping to preserve Cold War history. 

For more details go to https://coldwarconversations.com/donate/
If a financial contribution is not your cup of tea, you can still help us by leaving written reviews wherever you listen to us and sharing us on social media. It really helps us get new guests on the show.
I am delighted to welcome Stephen Walker to our Cold War conversation…
Harper Collins have kindly provided 3 copies to give away!
To be in with a chance to win a free copy of the book you will need to do at least one of the following before 2300 BST 17th April 2021:
Twitter – Follow us and retweet our book giveaway link in our timeline.  Here is our  twitter profile
Facebook – Follow us and share our post using the hashtags #beyondbook and #coldwarconvo
Instagram – Follow us on Instagram , like our  post and tag at least two friends in the comments. Make sure you use  the hashtags #beyondbook and #coldwarconversations
Mailing List – Join our mailing list and email us at ian "at" coldwarconversations.com to let me know you want to be entered.
Winners will be selected randomly 19th April  2021. if you are winner You will be notified directly if you have won. Please note if you are a winner your details will be passed to Harper Collins to facilitate book delivery. Good luck!
There's further information on this episode in our show notes which can also be found as a link in your podcast app here.
If you can't wait for next week's episode, visit our Facebook discussion group where guests and listeners continue the Cold War Conversation. Just search Cold War Conversations in Facebook.
Thank you very much for listening. It is really appreciated – goodbye.
Buy the book on this link and support the podcast
Support the Podcast and get access to exclusive extra content 
Available on our Patreon page here