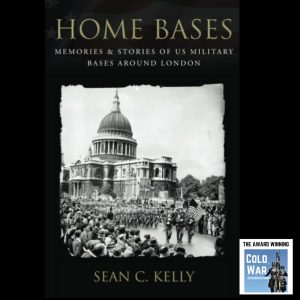 Sean Kelly is the author of Home Bases: Memories & Stories of US Military Bases Around London which for the first time, puts the spotlight on the history of many of the US Military's lesser-known command and support bases that were located either in or close to London. The bases (often known as 'Little Americas') are furthermore brought to life in a series of 'snapshot' memories.
Listen on Apple PodcastsListen on SpotifyListen on Google Podcasts
We hear about the heroism of US personnel who were awarded the George medal for bravery in rescuing people caught in the great floods of 1953 in East Anglia as well as including actor Larry Hagman who played JR Ewing in the TV series Dallas.
We also discuss the memories of bases further afield such as Upper Heyford, Greenham Common, Sculthorpe, and Burtonwood.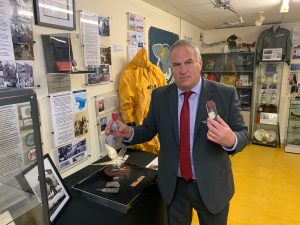 ---
The battle to preserve Cold War history is ongoing and your support can provide me with the ammunition to continue to keep this podcast on the air. Via a simple monthly donation, you'll become part of our community and get a sought-after CWC coaster as a thank you and you'll bask in the warm glow of knowing you are helping to preserve Cold War history.
Just go to https://coldwarconversations.com/donate/
If a monthly contribution is not your cup of tea, We also welcome one-off donations via the same link.
---
I am delighted to welcome Sean Kelly to our Cold War conversation…
Episodes referred to:
RAF Greenham Common https://coldwarconversations.com/episode18/
RAF Burtonwood https://coldwarconversations.com/episode74/
RAF Upper Heyford https://coldwarconversations.com/episode65/
Websites
Home Bases https://www.facebook.com/ushomebases
7 North Audley https://www.facebook.com/7NorthAudley/
Captain Kennedy story https://www.royalnavy.mod.uk/news-and-latest-activity/news/2022/july/05/20220705-high-wycombe-road-rededicated-to-ww2-royal-navy-hero
Museums
Sculthorpe Heritage Centre https://www.rafsculthorpeheritagecentre.org/
Greenham Common https://www.greenhamtower.org.uk/
Burtonwood  http://www.rafburtonwoodheritagecentre.co.uk/
Upper Heyford http://www.upperheyfordheritage.co.uk/
Bentwaters Cold War Museum https://www.bcwm.org.uk/
Videos
Support the Podcast and get exclusive extra content
Available on our Patreon page here