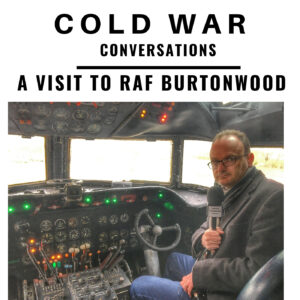 I'm here today at the RAF Burtonwood Heritage Centre, near Warrington in the UK. Based on what was once the largest and longest-running military airbase in Britain. The Heritage Centre was established to preserve and uphold the history of the men, women and activities that occurred here.
Now many of our fans are the proud owners of a Cold War Conversations Coaster, a gift from me to thank them for helping the podcast financially.
For the price of a couple of coffees a month to cover the show's increasing costs and keep us on the air you can get a coaster too?
Just go to Patreon.com/coldwarpod
Over 8,500 Americans were based at RAF Burtonwood during WW2 and over 70,000 service personnel served here during its 54-year history until closure in 1993. The heritage centre packs a lot of history in and make sure your listen to my visit to the cockpit of an actual C54 Skymaster as used in the Berlin Airlift – an unforgettable experience.
Back to today's episode, we welcome John Cotterill, the Heritage Centre Manager at RAF Burtonwood to our Cold War Conversation,
Websites
http://www.rafburtonwoodheritagecentre.co.uk/
https://forgottenairfields.com/airfield-burtonwood-1025.html
Photos
[ngg src="galleries" ids="19″ display="basic_thumbnail"]Videos


Support the Podcast and get exclusive extra content
Available on our Patreon page here