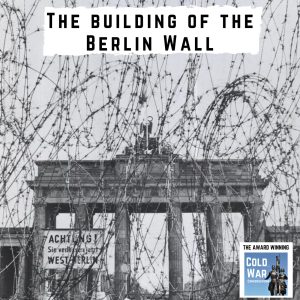 From the moment East Germany was formed in 1949, many of its citizens chose to leave to start a new life in the West. By the mid-1950s, the trickle had turned into a flood as large numbers rejected Walter Ulbricht's Communist paradise. His 'Workers' & Peasants' State' could not afford to lose the skills and productivity of these key workers, so he proposed a radical solution – to physically fence in the whole population.
I speak with Andrew Long, the author of a series of books about Cold War Berlin as we explore the background and build-up to the building of the Berlin Wall, from the closing of the Inner German border to the momentous events of August 1961.
We examine in detail how Operation Rose, the operation to close the border between East and West Berlin, was planned and executed and look at how the West reacted.
Buy Andrew's books here https://amzn.to/3hI6N2Y and support the podcast.
Cold War history is disappearing; however, a simple monthly donation will keep this podcast on the air. You'll become part of our community and get a sought-after CWC coaster as a thank you and you'll bask in the warm glow of knowing you are helping to preserve Cold War history. 
Just go to https://coldwarconversations.com/donate/ If a monthly contribution is not your cup of tea, We also welcome one-off donations via the same link.
---
Episodes referred to in the podcast:
Gary Powers U2 pilot  https://coldwarconversations.com/episode18/
1953 East German Uprising https://coldwarconversations.com/episode6/
Berlin airlift pilot https://coldwarconversations.com/episode56/
CIA pilot at the Bay of Pigs https://coldwarconversations.com/episode247/
Find the ideal gift for the Cold War enthusiast in your life! Just go to https://coldwarconversations.com/store/
Support the project! https://coldwarconversations.com/donate/
Follow us on Twitter here https://twitter.com/ColdWarPod
Facebook https://www.facebook.com/groups/coldwarpod/
Instagram https://www.instagram.com/coldwarconversations/
Youtube https://youtube.com/@ColdWarConversations
---
BOOK GIVEAWAY – BOOK GIVEAWAY – BOOK GIVEAWAY
Helion & Company have kindly provided 3 copies of  Cold War Berlin An Island City Volume 2 to give away!
To be in with a chance to win a free copy of the book you will need to do at least one of the following before 2300 GMT on 27th Nov 2022:
** Winners will be selected randomly w/c 28th Nov 2022. If you are a winner You will be notified directly if you have won. Please note if you are a winner your details will be passed to the publisher to facilitate book delivery. Delivery of the book may be subject to small customs fees. Good luck!
---
Have a look at our store and find the ideal gift for the Cold War enthusiast in your life? Just go to https://coldwarconversations.com/store/
Support the show (https://www.patreon.com/coldwarpod)
---