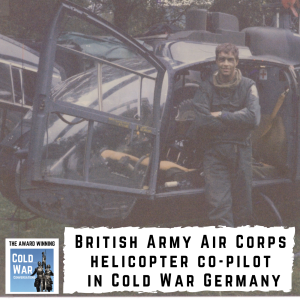 Paul continues his story with his recruitment into the Army Air Corps. It's initially delayed with a tour providing airfield repair in West Germany and then the Falklands, but finally, he's at training at Middle Wallop, the home of the Army Air Corps.
He describes the training including underwater escapes, flying and navigation. As a Gazelle crewman, his role was navigator, observer and co-pilot.  We hear of exercises including the lesser-known  Railex/Probex,  a US, French and British exercise to re-open a land corridor to West Berlin should the links be closed by Warsaw Pact forces as well as the British Frontier Service.
Listen on Apple PodcastsListen on SpotifyListen on Google PodcastsBecome a Patron!
Paul's story is again full of great anecdotes and the dangerous reality of flying low-level missions in a single-engine aircraft including a forced landing with a General on board.
Cold War history is disappearing; however, a simple monthly donation will keep this podcast on the air. You'll get a sought-after CWC coaster as a thank you and you'll bask in the warm glow of knowing you are helping to preserve Cold War history. 
Just go to https://coldwarconversations.com/donate/
If a financial contribution is not your cup of tea, then you can still help us by leaving written reviews wherever you listen to us as well as sharing us on social media. It really helps us get new guests on the show.
Don't miss our previous episode where Paul joins the Army as a boy soldier in the Royal Engineers here https://coldwarconversations.com/episode245/
I am delighted to welcome Paul to our Cold War conversation…
Follow us on Twitter here https://twitter.com/ColdWarPod
Facebook here https://www.facebook.com/groups/coldwarpod/
Instagram here https://www.instagram.com/coldwarconversations/
Follow us on Twitter here https://twitter.com/ColdWarPod
Facebook here https://www.facebook.com/groups/coldwarpod/
Instagram here https://www.instagram.com/coldwarconversations/
---