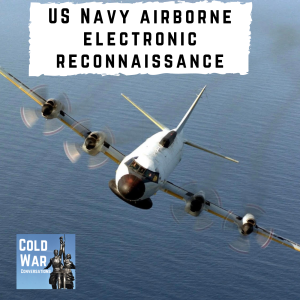 KC flew the US Navy's airborne Electronic Reconnaissance during the 1980s in the Lockheed EP-3 which is electronic signals reconnaissance version of the P-3 Orion.
He flew as a Navigator, Senior Electronic Warfare Evaluator and Mission Commander.
We hear about several missions he was involved in including his first detachment  to Athens the then  main USN operating base for missions in the Mediterranean and the Adriatic.
We also hear about flying in Baltic from bases in UK (Mildenhall/Wyton) or FRG (Schleswig-Jagel). Flying from Keflavik in Iceland KC monitored a huge Soviet Navy exercise in Norwegian Sea involving the Kiev, Kirov as well as numerous cruisers, destroyers, and frigates.
In the 1980s Libya was claiming the Gulf of Sidra as its territorial waters and KC flew in support of "freedom of navigation" operations involving USN ships.
It's a great insight into a relatively unknown part of Cold War air operations.
Cold War history is disappearing; however, a simple monthly donation will keep this podcast on the air. You'll get a sought after CWC coaster as a thank you and you'll bask in the warm glow of knowing you are helping to preserve Cold War history.
Just go to https://coldwarconversations.com/donate/
If a financial contribution is not your cup of tea, then you can still help us by leaving written reviews wherever you listen to us as well as sharing us on social media. It really helps us get new guests on the show.
I am delighted to welcome KC to our Cold War conversation…
Episode notes here https://coldwarconversations.com/episode243/
Follow us on Twitter here https://twitter.com/ColdWarPod
Facebook here https://www.facebook.com/groups/coldwarpod/
Instagram here https://www.instagram.com/coldwarconversations/
If you can't wait for next week's episode do visit our Facebook discussion group where guests and listeners continue the Cold War Conversation. Just search Cold War Conversations in Facebook.
Thank you very much for listening. It is really appreciated.
Support the Podcast and get access to exclusive extra content 
Available on our Patreon page here