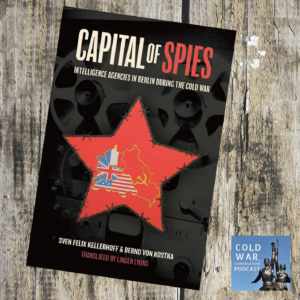 For almost half a century, the hottest front in the Cold War was right across Berlin. From summer 1945 until 1990, spying was part of everyday life in both East and West Berlin.
I speak with historian Bernd von Kostka of the Allied Museum in Berlin-Dahlem who has co-authored with Sven Felix Kellerhoff the book Capital of Spies: Intelligence agencies in Berlin during the Cold War recently published by Casemate.
The book describes the spectacular successes and failures of the various secret services based in the city and this episode we will concentrate on one of the chapters detailing the work of the various Allied listening stations.
This podcast relies on listener support to enable me to continue to capture these incredible stories and make them available for free. You can support my work and help to preserve Cold War history via one off or monthly donations
Just go to https://coldwarconversations.com/donate/for more details.
Do join our facebook discussion group where the cold war conversation continues between episodes. Just search Cold War Conversations in Facebook.
I am delighted and honoured to welcome back Bernd von Kostka to our Cold War conversation…
There's further information  here.  https://coldwarconversations.com/episode207/
Thank you very much for listening. It is really appreciated – goodbye.
Have a look at our store and find the ideal gift for the Cold War enthusiast in your life? Just go to https://coldwarconversations.com/store/
Support the show (https://www.patreon.com/coldwarpod)
Support the Podcast and get exclusive extra content
Available on our Patreon page here
Our Book List
Help Support the podcast by shopping at Amazon.
Our Merchandise Store
Help support the podcast with a CWC mug or maybe a t-shirt?