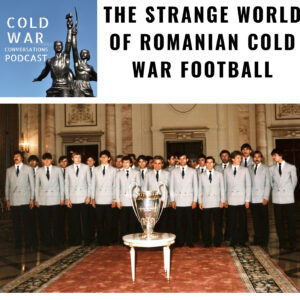 In this episode, we hear from Craig McCracken about the strange world of football in Cold War Romania and even if you are not interested in football it's a fascinating chat about Cold War Romania.
Craig runs the website, Beyondthelastman.com, described as 20th century football writing and nostalgia in a skilled and cultured groove. He knows his stuff.
Are you liking the podcast and want to help? Well, for the price of a couple of coffees a month you can help cover the show's increasing costs and keep us on the air, plus you get the sought after Cold war Conversations coaster too.
Just go to https://coldwarconversations.com/donate/
So back to today's episode, we talk of the early Cold War years where pre-war clubs were dissolved in favour of the big two (Steaua & Dinamo) through to the societal breakdown of the 1980s with defections, corruption, zombie clubs and an unlikely European Cup success.
I'm delighted to welcome back Craig McCracken to our Cold War Conversation…
Video
Brazil v Romania highlights from the 1970 World Cup. This was Romania's first World Cup appearance since 1938 and the dawning of the nation as a significant footballing power.
Nicolae Dobrin. Romania's first post war superstar from Arges Pitesti who was wanted in the west.
Steaua Bucharest. All the goals en route to them becoming the first ever champions of Europe from the east.