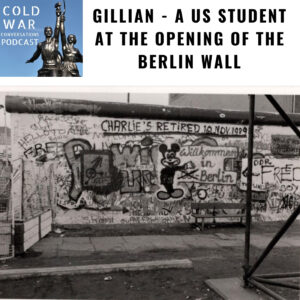 Gillian Cox visited the GDR as a student in October 1989 just before the Wall came down.
In this episode you will hear her eyewitness of account of what she saw ion that momentous night of 9th November 1989.

Before we start the episode I wanted to thanks everyone who is supporting the podcast financially via Patreon and one off donations. 
Now some of you may not realise that this podcast is a one man band and the podcast is financed out of my own pocket. When I started this in March 2018 I had no idea how popular this was going to be and have been astonished by the interest, your feedback and the generosity of my guests in allowing me to share their stories.
However, that popularity does increase the costs of putting the podcast out and if all our listeners just paid a dollar, a pound or a euro a month I'd be able to do far more. Now you may wonder what this Patreon is I keep banging on about. Well it makes it dead easy to support the podcast. Just visit Patreon.com/coldwarpod, chose your level of support and then I receive that amount monthly. In addition you will get access to previews, and other exclusive extras that don't make it into the free version of the show.   Just  click here to help support the show 
Now back to today's episode.
We welcome back Gillian Cox
[ngg src="galleries" ids="7″ display="basic_thumbnail"]