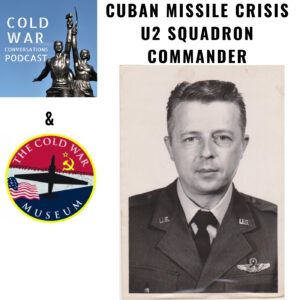 Col. William "Greg" Gregory served in the U.S. Army Air Corps and saw extensive combat over North Africa and Europe during World War 2.
When the Air Force was created he continued his role as a pilot and eventually became part of the clandestine U-2 spy plane program, rising to the position of squadron commander. It was his squadron in fact that flew many of the spy missions over Cuba during the Cuban Missile Crisis.
He was later awarded a medal by the CIA for his service, as well as a letter of appreciation by President Kennedy.
However…before we start I have to thank our fans who are helping the podcast financially.
So how do you join this select band? Well sign up to Patreon  for the price of a couple of coffees a month you help to cover the show's increasing costs and keep us on the air, plus you get the sought after Cold War Conversations coaster too.
Just go to Patreon.com/coldwarpod
Today's episode is brought in conjunction with The Cold War Museum and I'm delighted to welcome back Col William Gregory to Cold War Conversations.
It was such an honour to speak to Greg and hear first-hand from someone so deeply involved in the Cuban Missile Crisis. Thanks again to the Cold War Museum for arranging the conversation.
If you'd like to learn more then head over to our show notes which are at coldwarconversations.com/episode80  or will show as a link in some podcast apps. The show notes also have some videos relating to this
Support the Podcast and get access to exclusive extra content 
Available on our Patreon page here