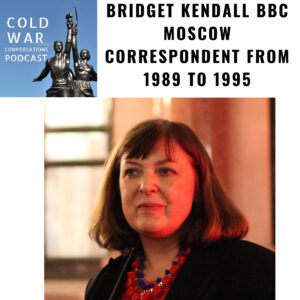 Today we have James taking the helm again with a fascinating chat with Bridget Kendall, the BBC's Moscow correspondent from 1989 to 1995 when she was witness to the power struggles in the Soviet Communist party as Mikhail Gorbachev tried to introduce reform.
However…before we start I have to thank our fans who are helping the podcast financially.
So how do you join this select band? Well sign up to Patreon for the price of a couple of coffees a month you help to cover the show's increasing costs and keep us on the air, plus you get the sought after CWC coaster too.
Just go to Patreon.com/coldwarpod
So back to today's episode. I'm delighted to welcome back James and his Cold War Conversation with Bridget Kendall.
If you'd like to learn more and maybe didn't get a chance to write down those book recommendations then head over to our show notes which are at https://coldwarconversations.com/79 or will show as a link in some podcast apps.
Film & TV
Books
The books of Svetlana Alexievich
The Rise and Fall of Communism – Archie Brown