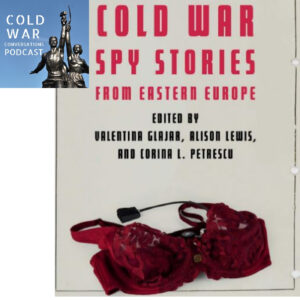 Today we're talking to Alison Lewis, a professor in German at the University of Melbourne.
She is the author of several books, including one in German about love and gender in literature during Germany's reunification and a book in German about the Stasi's infiltration of the literary underground. We spoke to Alison in episode 71.
In this episode we talk about her latest collaboration a new book called "Cold War Spy Stories from Eastern Europe."
The book brings together a wide range of accounts compiled from the East German Stasi, the Romanian Securitate, and the Ukrainian KGB files.
Now many of our fans are the proud owners of a Cold War Conversations Coaster, a gift from me to thank them for helping the podcast financially. In July Peter Lawaetz Winkler, Simon Curtis, Remy Louviere, Hack Green Secret Nuclear Bunker and Thomas Pohlentz joined this select band.
For the price of a couple of coffees a month to cover the show's increasing costs and keep us on the air you can get a coaster too?
Just go to Patreon.com/coldwarpod
So back to today's episode. We recorded in Manchester Central Library so do forgive us for any weird background noises. I'm delighted to welcome Prof Alison Lewis to Cold War Conversations.
Buy the book on this link and help support the podcast.