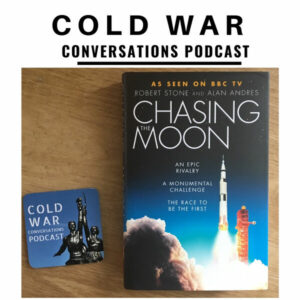 In a world divided by the ideological struggles of the Cold War, the Vietnam War and the Civil Rights Movement, more than one-fifth of the people on the planet paused to watch the live transmission of the Apollo 11 mission. To watch as humanity took a giant leap forward exactly 50 years ago.
Now before we start a special thanks to our select band of supporters who are helping us financially for the price of a cup of coffee a month to cover our increasing costs and keep us on the air. They are the proud owners of a CWC coaster-  this years must have household accessory! Click here for more information.
Today we speak with Robert Stone an Oscar- and Emmy-nominated documentary filmmaker and Alan Andres co-authors of the book "Chasing the Moon" companion book to the landmark documentary series on BBC TV, PBS and other channels around the world.
We Welcome Robert Stone and Alan Andres to Cold War Conversations
Buy the book on this link and support the podcast
Become a Patron! How nerve wracking was the first moon landing? Watch this!





Support the Podcast and get access to exclusive extra content 
Available on our Patreon page here