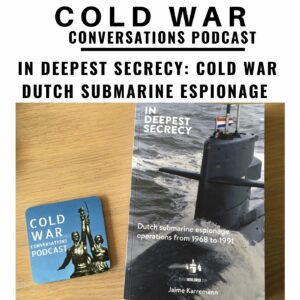 During the Cold War, six Dutch submarines secretly gathered intelligence about the Soviet Navy. Only a handful of people outside the Royal Netherlands Navy were aware of these operations, as they were not NATO operations.
Thanks to our latest financial supporters Victor Osprey, Joe Collins, Eric Telander and Andrew Tyler who are helping us financially for the price of a cup of coffee or two a month to cover our increasing costs and keep us on the air. They will shortly be the proud owners of a CWC coaster- don't you want one too? Just click here
For the first time, In Deepest Secrecy describes these top-secret deployments in detail. On the basis of interviews and archival research, Jaime Karremann reveals how the Dutch submarines followed, photographed and listened to Soviet ships unnoticed, from the freezing Arctic Ocean to shallow waters near Egypt.
Welcome to Cold War Conversations Jaime Karreman
Buy the book here and support the podcast.