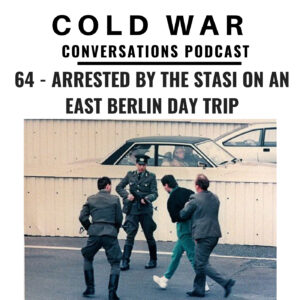 Todd Anton was arrested by the Stasi while on a day trip to East Berlin and gives a raw and powerful account of his arrest, interrogation and eventual release.
If you'd like to support us then from the price of a cup of coffee a month you can help us cover our increasing costs and keep us on the air as well as receive a Cold War Conversations coaster- this year's sought after household accessory!
Just click here. Thankyou so much to our current and latest Patrons.
We welcome Todd Anton to our Cold War Conversation.
note photo is illustrative only and is of an attempt to escape at the Checkpoint at Chausseestrasse in East Berlin in April of 1989.
[ngg src="galleries" ids="15″ display="basic_thumbnail"]
Videos
"Life of Others" interrogation scene