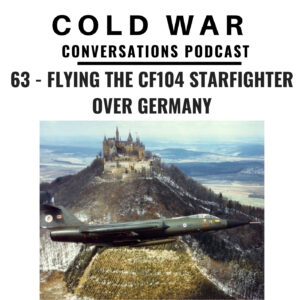 Laurie Hawn is a retired Canadian Member of Parliament and former career fighter pilot in the Royal Canadian Air Force.
Laurie tells the story of low level delivery of nuclear weapons via the Starfighter as well as conventional missions. Also we get insight into the escape, evasion and interrogation training given to NATO pilots.
As the podcast gets more popular our costs of hosting and running the podcast increase. If you are enjoying what you hear a few dollars, pounds or roubles a month help keep us on the air. Head over our web site to learn more. Thank you so much to all our fans that are supporting us – it is really appreciated!
Now back to today's episode where you won't want to miss the full story of how Laurie got his nickname of "Hawnski".
[ngg src="galleries" ids="18″ display="basic_thumbnail"]Documentary on the Canadian Air Group in Germany made in 1981
A walk around a Starfighter.
Low level Starfighter flight around German castles.
Support the Podcast and get access to exclusive extra content
Available on our Patreon page here