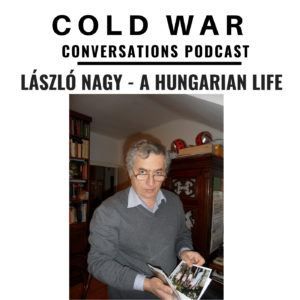 László Nagy was one of the early members of the Hungarian Democratic Forum in 1987. The HDF became Hungary's largest political party following first free elections in 1990.
In this episode we hear the story of his parent's life in 1950's Hungary and László's early life including how he ended up at school with the son of West Germany's President.
Before we start I'd like to ask you to by leaving a review in Itunes or with your favourite podcast provider. It really helps us get new guests on the show.
If you'd like to assist us further with the costs of running the show, then click here to learn more. Thank you so much to all our fans that are supporting us – it is really appreciated!
Now back to today's episode. We start with László describing his father's experiences at the end of World War 2.
Can't wait for the next episode? Visit our discussion group here
Support the Podcast and get access to exclusive extra content 
Available on our Patreon page here