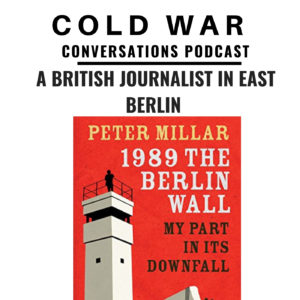 Today we have a joint operation where myself and Shane Whaley from the GDR Radio Podcast and Spybrary podcast speak with Peter Millar. Peter is an award winning journalist who was named Foreign Correspondent of the Year for his reporting on the dying days of the Cold War.
Now, I'm sure you'd like some exclusive extras including previews of future episodes, as well as content that didn't make the final cut.
Just head over to coldwarconversations.com and click on the "Support the podcast" menu option. Thank you very much to those listeners who are already supporting us.
I'd also like to thank our latest reviewers in Itunes JamieNYC, Neil Gussman and Mac East 2nd Floor Studios for their five star reviews. Please do add reviews In Itunes otherwise know as Apple Podcasts as it really helps to spread the word and get guests.
Back to today's episode. Peter's book "The Berlin Wall: My Part in its Downfall" is described as "a witty, wry, elegiac account of his time as a Reuters and Sunday Times correspondent in Berlin throughout most of the 1980s' " by The Spectator and the Sunday Times described it as" part autobiography, part history primer and part Fleet Street gossip column … Millar cast aside the old chestnuts and set about reporting on the reality of life under communism. In bare Stalinist apartments, at hollow party events and over cool glasses of Volker the gravedigger-cum-hippie, the Stasi seductress "Helga the Honeypot", Kurtl the accordion player whose father had been killed at Stalingrad, and the petty smuggler Manne who has been separated from his parents by the Wall …
We welcome Peter Millar.
Links
[amazon_link asins='1910050261,1906413851,191005089X,1908129506,0747510288,1906413967,B01FEKQPW2,1911350587′ template='ProductCarousel' store='worldwar2pill-21′ marketplace='UK' link_id='b16e7b12-0b8e-11e9-bcae-61543d96eb54′]
Peter's book – 1989 The Berlin Wall, My Part in its Downfall
Peter's Alternative history of a UK under Soviet rule.