<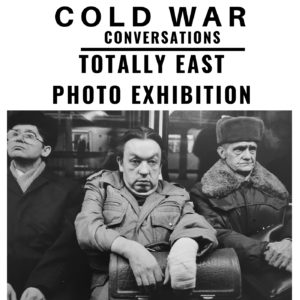 Today we visit the Totally East: Life in East Germany Photography Exhibition.
Run-down façades, punks and ordinary workers: This exhibition shows the works of Harald Hauswald, who documented everyday life in the GDR.
Now I know this is the point you fast forward, but before we start I'd like to thank our latest financial supporters via Patreon. These are  John Smaha, Jim Jordan, and Wayne Sherwood. They are really helping support the podcast by donating money and get access to some exclusive extras.  These donations can be as small as $1 or a quid and every donation helps keep us broadcasting and expanding the show. Just  click here 
So back to today's episode. I walk through the exhibition with Dr Richard Millington who you will remember from our episode on the 1953 East German Uprising.  Richard has brought the exhibition to Chester and as we walk round we discuss the photos and have a wide ranging conversation about life in East Germany.
After our chat there's some interviews with exhibition visitors who reminisce about the GDR and comment on the exhibition. We also chat with a couple of Cold War Conversations Podcast listeners who came along too.
I hope you enjoy! 
[ngg src="galleries" ids="4″ display="basic_thumbnail"]
Buy the exhibition guide book.
The Wartburg Trabant IFA Club in the UK
Grant's Books.
BERLIN: Caught in the Mousetrap