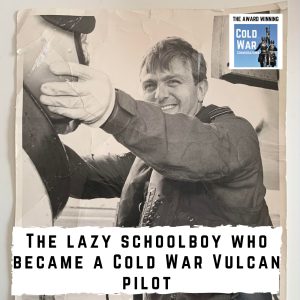 Kevin was born in Wigan in North West England and joined the RAF as an apprentice in 1956 with only 3 O Levels. He came top of his course, but was posted into supplies at RAF St Mawgan.  However he quickly became in charge of their clothing stores and by a fortuitous route became a trainee pilot.
By May 1963 he joins the RAF V Force as a Vulcan pilot and served with 44 Squadron where Vulcan crews were being converted to low level flying.
He describes the challenges of low level flying, Vulcan handling, and the immense power of the Vulcan's engines and training in Canada.
We also hear about the different methods of nuclear bomb release, what it was like to be on Quick Reaction Alert and his targets in the Soviet Union.
Kevin also flew a number of the Queen's birthday flights up the Mall and describes a near collision on one of these events in cloud.
He also remembers some of his colleagues who never came back from missions.
---
The fight to preserve Cold War history continues and via a simple monthly donation, you will give me the ammunition to continue to preserve Cold War history. You'll become part of our community, get ad-free episodes, and get a sought-after CWC coaster as a thank you and you'll bask in the warm glow of knowing you are helping to preserve Cold War history.
Just go to https://coldwarconversations.com/donate/
If a monthly contribution is not your cup of tea, We also welcome one-off donations via the same link.
---
Find the ideal gift for the Cold War enthusiast in your life! Just go to https://coldwarconversations.com/store/
Support the project! https://coldwarconversations.com/donate/
Follow us on Twitter https://twitter.com/ColdWarPod
Facebook https://www.facebook.com/groups/coldwarpod/
Instagram https://www.instagram.com/coldwarconversations/
Youtube https://youtube.com/@ColdWarConversations
Love history? Join Intohistory https://intohistory.com/coldwarpod