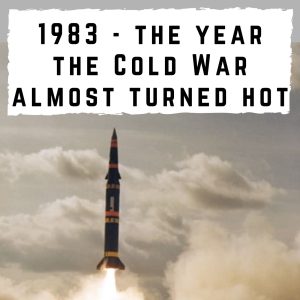 This week is the 40th anniversary of the Able Archer NATO Exercise where it is reckoned that the Soviet Union and NATO almost triggered a nuclear war.
Listen on Apple PodcastsListen on SpotifyListen on Google Podcasts
An investigation by the US President's Foreign Intelligence Advisory Board, culminating in its highly secret 1990 report "The Soviet 'War Scare'" The detailed PFIAB report concluded that the U.S. "may have inadvertently placed our relations with the Soviet Union on a hair trigger"
This episode is an audio version of the talk I delivered to the Manchester Military History Society in October 2023.
---
The fight to preserve Cold War history continues and via a simple monthly donation, you will give me the ammunition to continue to preserve Cold War history. You'll become part of our community, get ad-free episodes, and get a sought-after CWC coaster as a thank you and you'll bask in the warm glow of knowing you are helping to preserve Cold War history.
Just go to https://coldwarconversations.com/donate/
If a monthly contribution is not your cup of tea, We also welcome one-off donations via the same link.
---
Find the ideal gift for the Cold War enthusiast in your life! Just go to https://coldwarconversations.com/store/
Follow us on Twitter https://twitter.com/ColdWarPod
Facebook https://www.facebook.com/groups/coldwarpod/
Instagram https://www.instagram.com/coldwarconversations/
Youtube https://youtube.com/@ColdWarConversations
Love history? Check out Into History at this link https://intohistory.com/coldwarpod
---
Click here for The Perroots report 
View the actual intelligence briefing documents here 
Video
Support the Podcast and get access to exclusive extra content 
Available on our Patreon page here