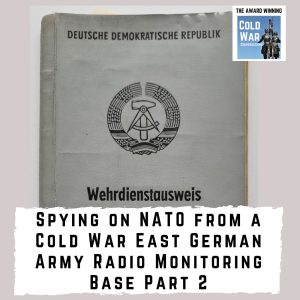 This is the second part of my chat with Thomas who worked in a secret East German radio monitoring base.
Listen on Apple PodcastsListen on SpotifyListen on Google PodcastsBecome a Patron!
He describes how a BRIXMIS or another MLM vehicle had once got into the base and what the NVA would told about MLM capabilities.
When the officers aren't around he and his comrades listen to Western radio and watch Western TV.
Gorbachev is now in power and liberalisation has now started in the Soviet Union and the East German government worries about contamination. Thomas describes his participation in the Dresden protests and is totally ​shocked ​by ​police brutality against East German citizens.
We talk about the opening of the Wall and the decline in NVA discipline as East Germany starts to implode in the march to reunification. We also hear about the content of his Stasi file.
Here is the link to the Japanese AOR scanners Thomas mentioned: https://www.rigpix.com/aor/aor_ar2002.htm
Photos of Thomas' base (only in German) where he was stationed: https://www.manfred-bischoff.de/fuaz-sued.htm
Google maps link to the location of his base
---
The fight to preserve Cold War history continues and via a simple monthly donation, you will give me the ammunition to continue to preserve Cold War history. You'll become part of our community, get ad-free episodes, and get a sought-after CWC coaster as a thank you and you'll bask in the warm glow of knowing you are helping to preserve Cold War history.
Just go to https://coldwarconversations.com/donate/
If a monthly contribution is not your cup of tea, We also welcome one-off donations via the same link.
---
Find the ideal gift for the Cold War enthusiast in your life! Just go to https://coldwarconversations.com/store/
Follow us on Twitter https://twitter.com/ColdWarPod
Facebook https://www.facebook.com/groups/coldwarpod/
Instagram https://www.instagram.com/coldwarconversations/
Youtube https://youtube.com/@ColdWarConversations
Love history? Check out Into History at this link https://intohistory.com/coldwarpod
---