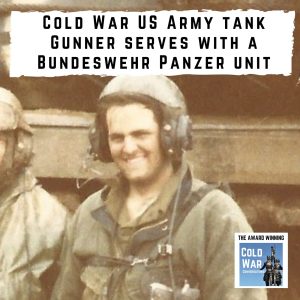 Mark joined the US Army on January 6th, 1981, and went to Ft Knox KY for Basic and Armor training. He graduated in April 1981 and was selected as Instructor Tank commander and trained the next cycle of recruits till August 1981.
Listen on Apple PodcastsListen on SpotifyListen on Google Podcasts
Mark was posted to West Germany in September 1981 and was assigned to 1st 37th Armor 1st Armored Div out of Katterbach. When he arrived they were just turning in their M60A2s for the M60A3s. Mark was made a gunner on C-22 as an E-2 private which is rare.
He was also picked to serve with a 1st 304th Bundeswehr PZ unit in Leopard 1A4s in 1982 and describes some fascinating details of the differences between the Bundeswehr and the US Army.
In 1982 his friend  Dean McCoy was killed in a military accident and Mark experienced PTSD for the last 30 years as a result. We dedicate this episode to the memory of Sammy Dean McCoy who died on March 18th 1982 aged 21.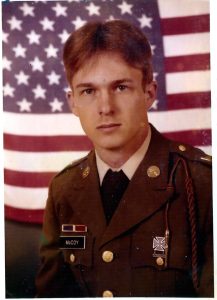 This episode is dedicated to Sammy Dean McCoy 1960-1982
---
The fight to preserve Cold War history continues and via a simple monthly donation, you will give me the ammunition to keep this podcast on the air. You'll become part of our community and get a sought-after CWC coaster as a thank you and you'll bask in the warm glow of knowing you are helping to preserve Cold War history. 

Just go to https://coldwarconversations.com/donate/

If a monthly contribution is not your cup of tea, We also welcome one-off donations via the same link.
---
Find the ideal gift for the Cold War enthusiast in your life! Just go to https://coldwarconversations.com/store/
Follow us on Twitter https://twitter.com/ColdWarPod
Facebook https://www.facebook.com/groups/coldwarpod/
Instagram https://www.instagram.com/coldwarconversations/
Youtube https://youtube.com/@ColdWarConversations