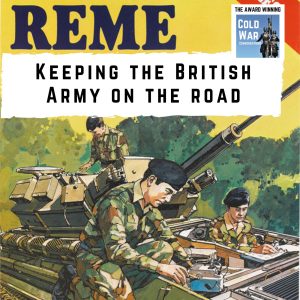 Aged 16 Chris joined the British Army apprentice school in Arborfield, at Princess Marina College. He was trained as a vehicle mechanic in the Royal Electrical Mechanical Engineers otherwise known as REME.
Listen on Apple PodcastsListen on SpotifyListen on Google PodcastsBecome a Patron!
We talk about life expectancy in war scenarios, experiences with crash out exercises, and life as a British soldier in West Germany
Chris also served Post-Wall Berlin with the Military Police and describes an interesting "secret" job he was involved in.
The episode was recorded at one of the Hack Green Nuclear Bunker Living History Weekends where Chris is one of the re-enactors. His advice has proved valuable to the other re-enactors as he is someone who was there…
It's a great down-to-earth account of a sometimes forgotten part of the British Army, without whose support they wouldn't have been able to operate.
---
The fight to preserve Cold War history continues and via a simple monthly donation, you will give me the ammunition to continue to preserve Cold War history. You'll become part of our community, get ad-free episodes, and get a sought-after CWC coaster as a thank you and you'll bask in the warm glow of knowing you are helping to preserve Cold War history.

Just go to https://coldwarconversations.com/donate/

If a monthly contribution is not your cup of tea, We also welcome one-off donations via the same link.

---

Find the ideal gift for the Cold War enthusiast in your life! Just go to https://coldwarconversations.com/store/

Follow us on Twitter https://twitter.com/ColdWarPod

Facebook https://www.facebook.com/groups/coldwarpod/

Instagram https://www.instagram.com/coldwarconversations/

Youtube https://youtube.com/@ColdWarConversations

Love history? Check out Into History at this link https://intohistory.com/coldwarpod
---