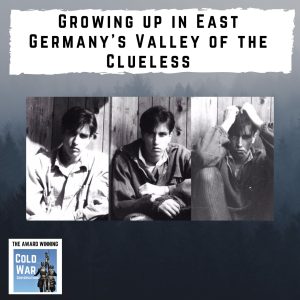 Henrik was born in the late 1960's near Dresden in East Germany. The area was sarcastically known as the Tal der Ahnungslosen  or Valley of the Clueless, as the area generally was not able to receive TV  from West Germany from the mid-to-late 1950s.
He describes his childhood growing up in a Uranium mining area. His mother was a teacher and his father was required to be a member of the Communist Party as his role at the university involved in map making which was classified as secret work.
It's not until he is 8 or 9 that Henrik realises there is another Germany and as he gets older he gets into Western music as he can still pick up West German radio. In 1983 his favourite grandmother moves to the West and starts to bring him Western clothing and vinyl records.
At 15 or 16 he seriously starts to think about how he can get to the West. Compulsory service in the National Peoples Army beckons increasing his urgency in finding a way to leave.
In 1988 Henrik receives an unexpected postcard from Spain from  a friend who had been sentenced for 2 years for trying to escape and this begins to crystallise Henrik's plans.
Special thanks to Jonny Whitlam for introducing Henrik to CWC. You can book his excellent Berlin tours here https://www.whitlams-berlin-tours.com/
Henrik's Cold War playlist – He tells me that if his life was made into a movie this would be the soundtrack…
---
The fight to preserve Cold War history continues and via a simple monthly donation, you will give me the ammunition to continue to preserve Cold War history. You'll become part of our community, get ad-free episodes, and get a sought-after CWC coaster as a thank you and you'll bask in the warm glow of knowing you are helping to preserve Cold War history.
Just go to https://coldwarconversations.com/donate/
If a monthly contribution is not your cup of tea, We also welcome one-off donations via the same link.
---
Find the ideal gift for the Cold War enthusiast in your life! Just go to https://coldwarconversations.com/store/
Support the project! https://coldwarconversations.com/donate/
Follow us on Twitter https://twitter.com/ColdWarPod
Facebook https://www.facebook.com/groups/coldwarpod/
Instagram https://www.instagram.com/coldwarconversations/
Youtube https://youtube.com/@ColdWarConversations
Love history? Join Intohistory https://intohistory.com/coldwarpod