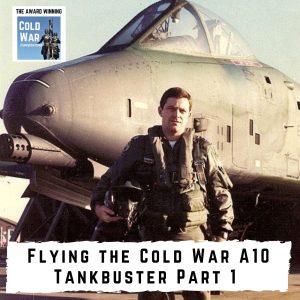 Joe's father served in World War 2 in the USAF. His service inspired Joe to try and join the USAF or the Naval Air Force despite having no flying experience.
It's the aftermath of the Vietnam War so forces are being reduced, however with the arrival of a new President, Ronald Reagan, defence spending grows and provides Joe with an opportunity to start pilot training with the USAF.
He eventually ends up flying the A10. The A-10 was first in service in 1976 and was designed to provide close air support to ground troops by attacking armoured vehicles, tanks, and other enemy ground forces.
Joe describes what makes the A10 special as well as his training and initial deployment in the A10 in Alaska. You get a real pilot's eye view of flying the plane including navigation techniques and the challenges of flying low level.
Part two is here  https://coldwarconversations.com/episode306/ where Joe is sent to  92nd Fighter Squadron at RAF Bentwaters in the UK, just over 50 miles from where his father served in World War 2.
---
The fight to preserve Cold War history continues and via a simple monthly donation, you will give me the ammunition to continue to preserve Cold War history. You'll become part of our community, get ad-free episodes, and get a sought-after CWC coaster as a thank you and you'll bask in the warm glow of knowing you are helping to preserve Cold War history.

Just go to https://coldwarconversations.com/donate/

If a monthly contribution is not your cup of tea, We also welcome one-off donations via the same link.

---

Find the ideal gift for the Cold War enthusiast in your life! Just go to https://coldwarconversations.com/store/

Support the project! https://coldwarconversations.com/donate/

Follow us on Twitter https://twitter.com/ColdWarPod

Facebook https://www.facebook.com/groups/coldwarpod/

Instagram https://www.instagram.com/coldwarconversations/

Youtube https://youtube.com/@ColdWarConversations

Love history? Join Intohistory https://intohistory.com/coldwarpod
Videos
Support the Podcast and get exclusive extra content
Available on our Patreon page here