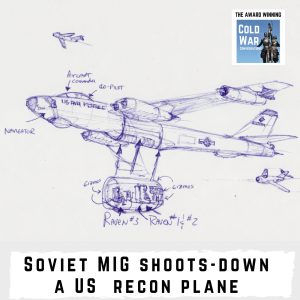 On 1 July 1960, a United States RB-47H reconnaissance plane was shot down by the Soviet Air Defence Forces while performing signals intelligence in the Barents Sea, near the Kola Peninsula, off the Arctic coast of the Soviet Union. Four of the six crew members died. The shootdown occurred exactly two months after the far better-known U-2 shootdown involving Francis Gary Powers and added to the tensions created by that incident. Gary Power and the U2 incident https://coldwarconversations.com/episode23/
wwListen on Apple PodcastsListen on SpotifyListen on Google Podcasts
I speak with John Mollison, an aviation artist, writer, and award-winning filmmaker. Do check out his website at https://www.johnmollison.com/ John interviewed Captain "Bruce" Olmstead who was co-pilot of the RB47.
As a result of his involvement in the incident, Olmstead received the POW medal in 1996 and Silver Star medal in 2004, as well as the Distinguished Flying Cross.
His Silver Star Citation reads "For 208 days, Colonel Olmstead was interrogated and harassed at length on a continuous basis by numerous top Soviet Secret Police interrogating teams. Although greatly weakened physically by the lack of food, denial of sleep, and the mental rigors of constant interrogation, Colonel Olmstead steadfastly refused all attempts to give sensitive defense information or be exploited for propaganda purposes. By his gallantry and devotion to duty, Colonel Olmstead has reflected great credit upon himself and the United States Air Force."
Bruce died in October 2016.
---
The fight to preserve Cold War history continues and via a simple monthly donation, you will give me the ammunition to continue to preserve Cold War history. You'll become part of our community, get ad-free episodes, and get a sought-after CWC coaster as a thank you and you'll bask in the warm glow of knowing you are helping to preserve Cold War history.
Just go to https://coldwarconversations.com/donate/
If a monthly contribution is not your cup of tea, We also welcome one-off donations via the same link.
---
Find the ideal gift for the Cold War enthusiast in your life! Just go to https://coldwarconversations.com/store/
Follow us on Twitter https://twitter.com/ColdWarPod
Facebook https://www.facebook.com/groups/coldwarpod/
Instagram https://www.instagram.com/coldwarconversations/