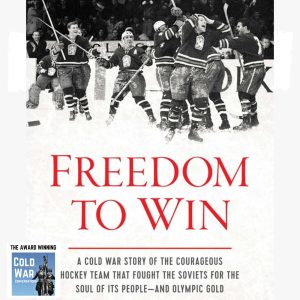 I speak with author Ethan Scheiner whose book "Freedom to Win" describes the gripping story of a group of small-town young men who would lead their underdog hockey team from Czechoslovakia against the Soviet Union, the juggernaut in their sport.
In 1968 Czechoslovakia is experiencing the Prague Spring, an attempt to moderate and soften communism. However, a sudden invasion by 500,000 Warsaw Pact soldiers halts the reforms.
We hear the inspiring story of how the young players of the national hockey team battle the Soviets on the ice to keep their people's quest for freedom alive and forge a way to fight back against the authoritarian forces that sought to crush them.
---
The fight to preserve Cold War history continues and via a simple monthly donation, you will give me the ammunition to continue to preserve Cold War history. You'll become part of our community and get a sought-after CWC coaster as a thank you and you'll bask in the warm glow of knowing you are helping to preserve Cold War history.
Just go to https://coldwarconversations.com/donate/
If a monthly contribution is not your cup of tea, We also welcome one-off donations via the same link.
---
Prague Spring and Cold War Czechoslovakia episodes https://coldwarconversations.com/tag/czechoslovakia/
Find the ideal gift for the Cold War enthusiast in your life! Just go to https://coldwarconversations.com/store/
Support the project! https://coldwarconversations.com/donate/
Follow us on Twitter https://twitter.com/ColdWarPod
Facebook https://www.facebook.com/groups/coldwarpod/
Instagram https://www.instagram.com/coldwarconversations/
Youtube https://youtube.com/@ColdWarConversations