Listen on Apple PodcastsListen on SpotifyListen on Google PodcastsBecome a Patron!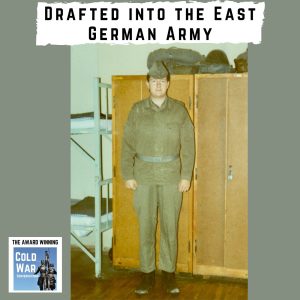 Steffen was born in Karl Marx Stadt and was conscripted into the NVA (East German Army) in 1988.
When he left school he started an apprenticeship in electronics learning how to build radio receivers at REMA, a then-famous producer of HiFi equipment.
Steffen is called up at 18 for his 18 months of service and he talks of the conscription process and incentives offered to him to serve for a longer period.
Steffen is posted to a unit in Leipzig that was responsible for telephone lines from the NVA Headquarters for the area south of Berlin. He describes the training he took and the role he carried out including installing phones for NATO Intermediate-Range Nuclear Forces Treaty inspectors.
In the summer of 1989 many citizens of East Germany flee the country via the now semi-open Hungarian border and Steffen describes heightened tension within the Army.
Don't miss next week's episode where Steffen describes his transfer into the Bundeswehr, the West German Army.
The fight to preserve Cold War history continues and via a simple monthly donation, you will give me the ammunition to keep this podcast on the air. You'll become part of our community and get a sought-after CWC coaster as a thank you and you'll bask in the warm glow of knowing you are helping to preserve Cold War history.

Just go to https://coldwarconversations.com/donate/

If a monthly contribution is not your cup of tea, We also welcome one-off donations via the same link.
Find the ideal gift for the Cold War enthusiast in your life! Just go to https://coldwarconversations.com/store/
Support the project! https://coldwarconversations.com/donate/
Follow us on Twitter https://twitter.com/ColdWarPod
Facebook https://www.facebook.com/groups/coldwarpod/
Instagram https://www.instagram.com/coldwarconversations/
Youtube https://youtube.com/@ColdWarConversations
Radio GDR
If you are interested in East Germany we can highly recommend our friends over at Radio GDR.
Disbanding of the NVA, 2-3 October, 1990
Longer version here.
---