wwListen on Apple PodcastsListen on SpotifyListen on Google Podcasts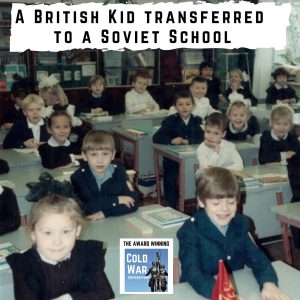 Richard was 6 years old when he was uprooted from a school in the United States to a Soviet school 700 miles East of Moscow.
In 1988 the Soviet Union was opening up following Michael Gorbachev's policy of Perestroika and American firms began looking at the possibility of trading with the Soviet Union.   It was politically and economically sensitive and his family was chosen to be sent to the USSR to open a factory in the industrial town of Nizhnekamsk in Tartarstan.
They lived in a special apartment building designated for foreigners and Richard attended the local school.   Being thrown in the deep end of a Soviet school was a shock to him and he had to adapt fast, not least by learning Russian.
He describes his school experiences and the stark contrasts with his previous life. Despite the difference, he found being six years old in the Soviet Union in all, rather fun.  There was a Lunar Park for us to go on rides, war-themed toys like tanks and soldiers even at school, and all sorts of mischief were had.
Life in Nizhnekamsk was hard on his mother who had to stay at home a lot and found the whole experience painfully boring.
---
The fight to preserve Cold War history continues and via a simple monthly donation, you will give me the ammunition to keep this podcast on the air. You'll become part of our community and get a sought-after CWC coaster as a thank you and you'll bask in the warm glow of knowing you are helping to preserve Cold War history.

Just go to https://coldwarconversations.com/donate/

If a monthly contribution is not your cup of tea, We also welcome one-off donations via the same link.
Find the ideal gift for the Cold War enthusiast in your life! Just go to https://coldwarconversations.com/store/
---
Support the project! https://coldwarconversations.com/donate/
Follow us on Twitter https://twitter.com/ColdWarPod
Facebook https://www.facebook.com/groups/coldwarpod/
Instagram https://www.instagram.com/coldwarconversations/
Youtube https://youtube.com/@ColdWarConversations
Support the Podcast and get exclusive extra content
Available on our Patreon page here