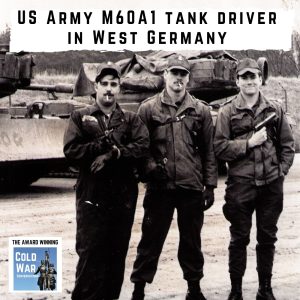 Brian Regal entered the US Army in 1977 and served on the M60A1 tank initially as a driver. The M60A1 was America's primary main battle tank during the Cold War, with initial deployment in 1960 and combat service through to 1991.
Listen on Apple PodcastsListen on SpotifyListen on Google Podcasts
After tank school, Brian was sent to West Germany where he was assigned to the 3/35 Armor in the Bamberg Garrison as part of the 1st Armored Division US Army,  where the 3/35 was tasked to fight a Warsaw Pact attack across the Czechoslovak and East German borders. Brian was also his company's nuclear, biological, and chemical warfare specialist.


He describes in detail his  training, how patrols were conducted along the borders, an incident with a Soviet Military Liaison mission car, the war games amongst the West German civilians, as well as practice alerts.


It's a great chat and Brian is frank about his role and the scant expectations for survival if war did come. 
He is now Dr. Brian Regal, Professor for the History of Science, Technology, and Medicine at Kean University, New Jersey
web page: https://sites.google.com/a/kean.edu/brian-regal-phd/


The fight to preserve Cold War history continues and via a simple monthly donation, you will give me the ammunition to keep this podcast on the air. You'll become part of our community and get a sought-after CWC coaster as a thank you and you'll bask in the warm glow of knowing you are helping to preserve Cold War history. 

Just go to https://coldwarconversations.com/donate/

If a monthly contribution is not your cup of tea, We also welcome one-off donations via the same link.

Find the ideal gift for the Cold War enthusiast in your life! Just go to https://coldwarconversations.com/store/
Follow us on Twitter https://twitter.com/ColdWarPod
Facebook https://www.facebook.com/groups/coldwarpod/
Instagram https://www.instagram.com/coldwarconversations/
Youtube https://youtube.com/@ColdWarConversations

Support the project! https://coldwarconversations.com/donate/
Follow us on Twitter here https://twitter.com/ColdWarPod
Facebook https://www.facebook.com/groups/coldwarpod/
Instagram https://www.instagram.com/coldwarconversations/
Youtube https://youtube.com/@ColdWarConversations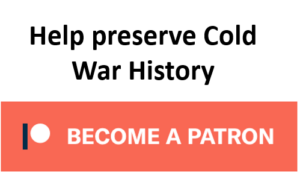 https://youtu.be/wuEmK8Id7KM