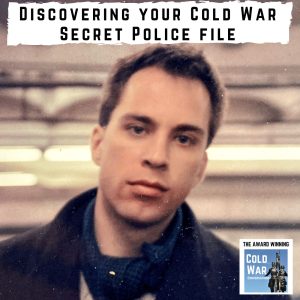 Mark Baker was featured in episode 9 where he told us about working in Czechoslovakia in the 1980s as a journalist for a small publishing company called Business International (BI). He was the company's Czechoslovakia expert and with his Czech minder Arnold he travelled to Prague and other cities to report on significant economic and political developments.
In 2021, he published "Čas Proměn" ("Time of Changes"), written in Czech, it is a collection of stories about Central and Eastern Europe in the 1980s and early '90s.
Over the Christmas 2021 holidays, as he was visiting family in Ohio, he received a surprise email from a Czech academic. He was writing to Mark that he had finished reading the book and that he liked it. But then he added, cryptically, that Mark might want to revise part of it for future editions as he had found Mark's Czechoslovak secret police surveillance file…
We hear about the plans the Czechoslovak secret police had for Mark and the secret of Operation Oheň, aka Operation Fire.
Now if you think there is a vast army of research assistants, audio engineers and producers putting together this podcast you'd be wrong. This podcast relies on your support to enable me to continue to capture these incredible stories and make them available to everyone for free.

If you'd like to help to preserve Cold War history and enable me to continue to produce this podcast you can via one off or monthly donations.

Just go to https://coldwarconversations.com/donate/for more details.
Listen to mark's previous episode here https://pod.fo/e/f83f
Mark's blog is available here. https://markbakerprague.com/part-1-introducing-our-man-inter
Support the project! https://coldwarconversations.com/donate/
Follow us on Twitter here https://twitter.com/ColdWarPod
Facebook https://www.facebook.com/groups/coldwarpod/
Instagram https://www.instagram.com/coldwarconversations/
Youtube https://youtube.com/@ColdWarConversations