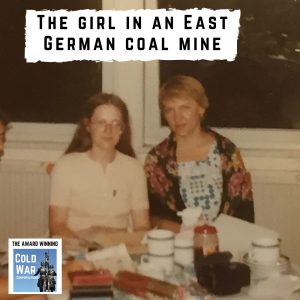 In 1981 Marie-Claude Hawkes was an 18-year-old living in Amiens, France when she embarked on a trip to East Germany looking for adventure…
Among her experiences was working in a lignite coal mine. Lignite is considered the lowest rank of coal and the most harmful coal to human health but was a major fuel source for East German power stations.
Listen on Apple PodcastsListen on SpotifyListen on Google PodcastsBecome a Patron!
Marie-Claude travelled from Paris to Leipzig on an overnight train, staying at the International Youth Camp in Borna. From there she travelled every day to work in the open lignite mine at Espenhain, about 16 miles from Leipzig.
She describes working at the mine, weekends off, visits to Leipzig, Magdeburg, Weimar and a potato peeling factory…!
It's a fascinating view of East Germany away from the capital Berlin. Marie- Claude's story continues here https://coldwarconversations.com/episode272/
Cold War history is disappearing; however, a simple monthly donation will keep this podcast on the air. You'll become part of our community and get a sought after CWC coaster as a thank you and you'll bask in the warm glow of knowing you are helping to preserve Cold War history. 
Just go to https://coldwarconversations.com/donate/

If a monthly contribution is not your cup of tea, We also welcome one-off donations via the same link.
Find the ideal gift for the Cold War enthusiast in your life! Just go to https://coldwarconversations.com/store/
Support the project! https://coldwarconversations.com/donate/
Follow us on Twitter here https://twitter.com/ColdWarPod
Facebook https://www.facebook.com/groups/coldwarpod/
Instagram https://www.instagram.com/coldwarconversations/
Youtube https://youtube.com/@ColdWarConversations
If you are interested in East Germany we can highly recommend our friends over at Radio GDR.