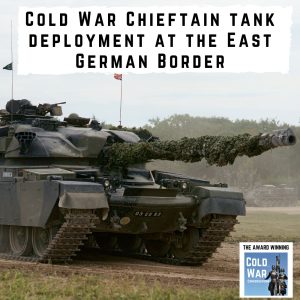 We're back with Alan Hodges, a Royal Tank Regiment Chieftain tank commander, and Mick Hadfield who was his 17-year-old gunner. 
Listen on Apple PodcastsListen on SpotifyListen on Google Podcasts
In this episode we talk in detail about their deployment within a kilometer of the East German border and their tasks should H Hour have come as well as emergency deployment from barracks.

There is no affection for their main training area at Soltau described as "the moon with a few trees and also in less polite terms. However, these training periods are made better by the regular appearance of Wolfgang, a German entrepreneur and British Army legend who was uncannily able to place his snack vans whenever the British Army deployed.

We also hear how the crew was also trained on how to evacuate the tank if it was hit as well as how to evade capture and resist interrogation.

It's anecdotes galore again including a visit from a Swedish Major who unwisely was given the chance to drive Chieftain.

There's also sadness as we remember those that never came back from exercises due to accidents. It's the continuing story of the close bond that soldiers forge that still lasts to this day.
Cold War history is disappearing; however, a simple monthly donation will keep this podcast on the air. You'll become part of our community and get a sought-after CWC coaster as a thank you and you'll bask in the warm glow of knowing you are helping to preserve Cold War history. 

Just go to https://coldwarconversations.com/donate/

If a monthly contribution is not your cup of tea, We also welcome one-off donations via the same link.

Support the project! https://coldwarconversations.com/donate/
Follow us on Twitter here https://twitter.com/ColdWarPod
Facebook https://www.facebook.com/groups/coldwarpod/
Instagram https://www.instagram.com/coldwarconversations/
Youtube https://youtube.com/@ColdWarConversations