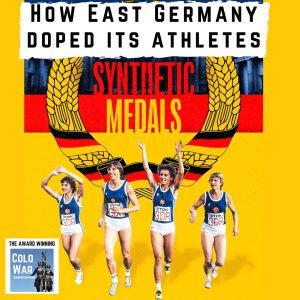 In the early 1970s, the athletes of East Germany started to achieve incredible sports results, winning medals and setting new world records with astonishing frequency. For many years, their sporting supremacy was hailed as a triumph of the socialist government's commitment to scientific research and innovative training methods.
Listen on Apple PodcastsListen on SpotifyListen on Google PodcastsBecome a Patron!
However, after the Cold War ended, the Stasi archives revealed a sinister secret behind the successes: a perverse doping system imposed by the government itself. Drugs were administered to young athletes, often without their consent, and the price their bodies are now paying is very high, both physically and mentally.
I talk with Joseph Tudor, whose new book Synthetic Medals reveals the events that led to the discovery of the state-doping system and the subsequent trial. It also explores the state's motives for this crime against its own people.
Buy the book here https://amzn.to/3gVZbtI and support the podcast.
---
Cold War history is disappearing; however, a simple monthly donation will keep this podcast on the air. You'll become part of our community and get a sought after CWC coaster as a thank you and you'll bask in the warm glow of knowing you are helping to preserve Cold War history.
Just go to https://coldwarconversations.com/donate/

If a monthly contribution is not your cup of tea, We also welcome one-off donations via the same link.
---
Find the ideal gift for the Cold War enthusiast in your life! Just go to https://coldwarconversations.com/store/
Support the project! https://coldwarconversations.com/donate/
Follow us on Twitter here https://twitter.com/ColdWarPod
Facebook https://www.facebook.com/groups/coldwarpod/
Instagram https://www.instagram.com/coldwarconversations/
Youtube https://youtube.com/@ColdWarConversations
---
BOOK GIVEAWAY – BOOK GIVEAWAY – BOOK GIVEAWAY
Pitch publishing has kindly provided 3 copies of  "Synthetic Medals" to give away!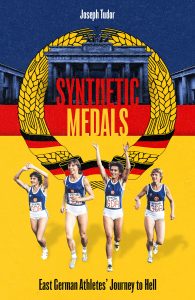 To be in with a chance to win a free copy of the book you will need to do at least one of the following before 2300 GMT on 10th Dec 2022:
** Winners will be selected randomly w/c 12th Dec 2022. If you are a winner You will be notified directly if you have won. Please note if you are a winner your details will be passed to the publisher to facilitate book delivery. Delivery of the book may be subject to small customs fees. ***
Good luck!
---
Radio GDR
If you are interested in East Germany we can highly recommend our friends over at Radio GDR.

Support the Podcast and get access to exclusive extra content here