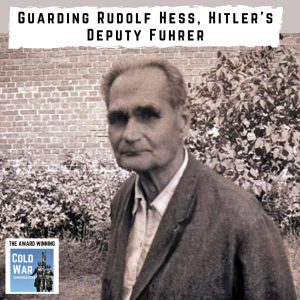 Dave Phillips is a Yeoman Warder at the Tower of London. The Yeoman Warders have been guarding the Tower since Tudor times.
Dave joined the British Army aged 16 into the Royal Irish Rangers. We hear of his early years in the Army in Northern Ireland and his posting to West Berlin.
In West Berlin Dave is part of the force that guarded Rudolf Hess, a leading member of the Nazi Party in Nazi Germany and appointed Deputy Führer to Adolf Hitler in 1933.
On 10 May 1941, Hess made a solo flight to Scotland, where he hoped to arrange peace talks with the British. He was arrested and stood trial at the 1946 Nuremberg trials of major war criminals. The court convicted him of crimes against peace and of conspiracy with other German leaders to commit crimes and was given a life sentence in Berlin's Spandau Prison.
Dave describes interactions with Hess, as well as the guard duties and operation of the prison.
Cold War history is disappearing; however, a simple monthly donation will keep this podcast on the air. You'll become part of our community and get a sought-after CWC coaster as a thank you and bask in the warm glow of knowing you are helping preserve Cold War history.

Just go to https://coldwarconversations.com/donate/

If a monthly contribution is not your cup of tea, We also welcome one-off donations via the same link.
Support the project! https://coldwarconversations.com/donate/
Follow us on Twitter here https://twitter.com/ColdWarPod
Facebook https://www.facebook.com/groups/coldwarpod/
Instagram https://www.instagram.com/coldwarconversations/
Youtube https://youtube.com/@ColdWarConversations
---
---
Have a look at our store and find the ideal gift for the Cold War enthusiast in your life? Just go to https://coldwarconversations.com/store/
Support the show (https://www.patreon.com/coldwarpod)
---