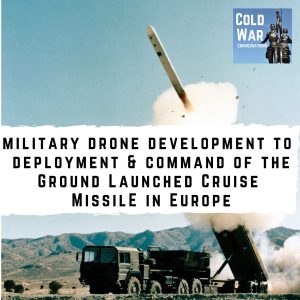 We continue the story of Richard Stachurski from the previous episode.
In 1971 Richard left NASA and was assigned to the Drone/Remotely Piloted Vehicle Systems Program Office at Wright-Patterson Air Force Base in Ohio. 
From 1975-1978 Richard did a tour of duty with the Air Staff at the Pentagon in Washington D.C. and between 1978-1981: he was Deputy Program Manager, Ground Launched Cruise Missile Program (GLCM) System Program Office-engaged in the adaptation of the Navy's SLCM for use by the Air Force. 
In 1981 he was assigned to the staff at USAFE Headquarters (Ramstein Air Force Base, Germany) responsible for the deployment of the GLCM to five European countries (England, Germany, Netherlands, Belgium, and Italy). 
Richard was then promoted in 1984 to Vice Commander, Commander, 487th Tactical Missile Wing, Comiso Air Station, Sicily where he was responsible for the missile wing's operational readiness, and his troops' welfare.
Cold War history is disappearing; however, a simple monthly donation will keep this podcast on the air. You'll become part of our community and get a sought-after CWC coaster as a thank you and bask in the warm glow of knowing you are helping preserve Cold War history. 
Just go to https://coldwarconversations.com/donate/

If a monthly contribution is not your cup of tea, We also welcome one-off donations via the same link.
Follow us on Twitter here https://twitter.com/ColdWarPod
Facebook here https://www.facebook.com/groups/coldwarpod/
Instagram here https://www.instagram.com/coldwarconversations/