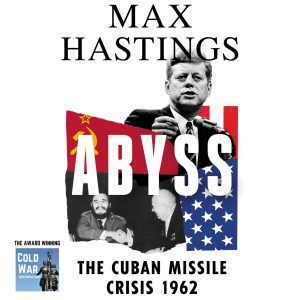 The 1962 Cuban Missile Crisis is reckoned to be one of the most perilous events in history, when the World  faced a looming nuclear collision between the United States and Soviet Union. During those weeks, the world gazed into the abyss of potential annihilation.
Listen on Apple PodcastsListen on SpotifyListen on Google PodcastsBecome a Patron!
I speak with Sir Max Hastings whose  new history tells the story from the viewpoints of national leaders, Russian officers, Cuban peasants, American pilots and British disarmers. The period is brought to life with eye-witness interviews, archive documents and diaries, White House tape recordings, and top-down analysis. More than purely a focus on the 13 days of the crisis, the book provides context through the Cold War experiences of Fidel Castro's Cuba, Nikita Khrushchev's Russia, and Kennedy's America.
Among the areas we discuss are how Cuba became a crisis, the failure of intelligence on both sides,  and those nail-biting Thirteen Days in which Armageddon beckoned.
Buy the book and support the podcast
Cold War history is disappearing; however, a simple monthly donation will keep this podcast on the air. You'll become part of our community and get a sought after CWC coaster as a thank you and you'll bask in the warm glow of knowing you are helping to preserve Cold War history. 
Just go to https://coldwarconversations.com/donate/
If a monthly contribution is not your cup of tea, We also welcome one-off donations via the same link.
I am delighted to welcome Sir Max Hastings to our Cold War conversation…
Follow us on Twitter here https://twitter.com/ColdWarPod
Facebook here https://www.facebook.com/groups/coldwarpod/
Instagram here https://www.instagram.com/coldwarconversations/
Max's publisher has kindly provided 3 copies of "Abyss: The Cuban Missile Crisis 1962" to give away!
To be in with a chance to win a free copy of the book you will need to do at least one of the following before 2300 BST on 8th Oct 2022:
** Winners will be selected randomly w/c 9th Oct 2022. If you are a winner you will be notified directly if you have won and your details will be passed to the publisher to facilitate book delivery. Delivery of the book may be subject to small customs fees. Good luck!
Videos
Support the Podcast and get exclusive extra content
Available on our Patreon page here