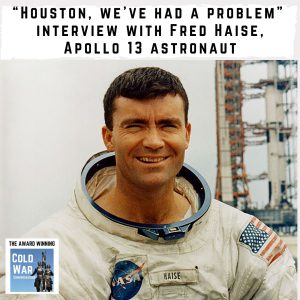 Fred Haise was one of the three astronauts on the ill-fated Moon mission when a design fault caused an oxygen tank to explode mid-mission putting the Apollo 13 crew in mortal danger on April 13th, 1970. This was the seventh crewed mission in the Apollo space program and the third meant to land on the Moon.
Buy Fred's book "Never Panic Early: An Apollo 13 Astronaut's Journey" and support the podcast using the link below.
Now as you can imagine I'm genuinely excited to be speaking with one of the Apollo astronauts. Fred and I talk about his life and his almost accidental entry into flying. We cover his admission into the astronaut programme, the family impact, and as you can imagine go into some detail about his experiences on the Apollo 13 mission.
Many of you will know of this mission via the Film "Apollo 13" starring Tom Hanks, and Fred shares his views on the film and corrects some of the inaccuracies.
Cold War history is disappearing; however, a simple monthly donation will keep this podcast on the air. You'll become part of our community and get a sought-after CWC coaster as a thank you and you'll bask in the warm glow of knowing you are helping to preserve Cold War history. 
Just go to https://coldwarconversations.com/donate/
If a monthly contribution is not your cup of tea, We also welcome one-off donations via the same link.
I am delighted to welcome Fred Haise to our Cold War conversation…
Follow us on Twitter here https://twitter.com/ColdWarPod
Facebook here https://www.facebook.com/groups/coldwarpod/
Instagram here https://www.instagram.com/coldwarconversations/
All audio/video/photos courtesy of NASA.
Support the Podcast and get access to exclusive extra content 
Available on our Patreon page here