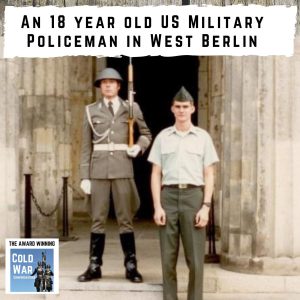 Richard Blevins enlisted aged 18 in the US Army in March of 1987.  He completed  Basic Training  & Military Police School training in July of 1987 and was posted to West Berlin as a United States Military Policeman.
He describes his selection for Berlin duty while at Rhine-Main AFB in Frankfurt and his first journey across East Germany on the US Duty train to West Berlin.
Richard's first year consisted of patrol duties and combat training as well as serving at Checkpoints Bravo and Charlie as the assistant to the Non-commissioned Officer in Charge.
Listen on Apple PodcastsListen on SpotifyListen on Google PodcastsBecome a Patron!
He also got selected as a traffic accident investigator in 1988 where he would patrol with the West Berlin Police and respond to all car accidents involving US military, dependents, and civilian workers as well as West German nationals.
Richard also describes how he heard the news on November 8th, 1989, that Erich Honecker had lifted all travel restrictions on East Germans starting at midnight.
He is a close friend of Michael Rafferty who appeared in episode 13 with his account of the last days of Checkpoint Charlie. Don't miss Michael's video of 1980s Berlin shown below.
Cold War history is disappearing; however, a simple monthly donation will keep this podcast on the air. You'll become part of our community and get a sought-after CWC coaster as a thank you and you'll bask in the warm glow of knowing you are helping to preserve Cold War history. 
Just go to https://coldwarconversations.com/donate/
If a financial contribution is not your cup of tea, then you can still help us by leaving written reviews wherever you listen to us as well as sharing us on social media. It really helps us get new guests on the show.
I am delighted to welcome Richard Blevins to our Cold War conversation…
Follow us on Twitter here https://twitter.com/ColdWarPod
Facebook here https://www.facebook.com/groups/coldwarpod/
Instagram here https://www.instagram.com/coldwarconversations/