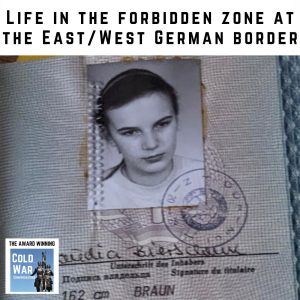 A young Claudia Bierschenk lived in a village surrounded by hills, valleys and thick forests at the edge of a world called the GDR.
Listen on Apple PodcastsListen on SpotifyListen on Google PodcastsBecome a Patron!
Her great uncle lives in the Forbidden Zone, the area where the East German border is a few metres away from West Germany. This is where the villages are like ghost towns and inhabitants need special permits to enter.
Claudia provides a vivid and unique description of entering the forbidden zone for the first time after being granted special permits to visit her Great Uncle on his 80th birthday.
We also hear more of her life in her village, including strange sports activities and Claudia's experience of being a 12-year-old Para medic.
We end the episode talking about how she and her family experienced the momentous events of 1989 when the border opens, and East Germans are free to cross into West Germany.
Claudia has distilled these stories into a book, Never Mind, Comrade, published by Tangerine Press, check out the book giveaway below.
Cold War history is disappearing; however, a simple monthly donation will keep this podcast on the air. You'll get a sought-after CWC coaster as a thank you and bask in the warm glow of knowing you are helping preserve Cold War history.
Just go to https://coldwarconversations.com/donate/
If a financial contribution is not your cup of tea, then you can still help us by leaving written reviews wherever you listen to us and sharing them on social media. It really helps us get new guests on the show.
I am delighted to welcome Claudia Bierschenk to our Cold War conversation…
All photos are © Claudia Bierschenk.
Follow us on Twitter here https://twitter.com/ColdWarPod
Facebook here https://www.facebook.com/groups/coldwarpod/
Instagram here https://www.instagram.com/coldwarconversations/
Radio GDR
If you are interested in East Germany we can highly recommend our friends over at Radio GDR.
Drone footage of Ershausen, Claudia's home village.
Drone footage of the Eichsfeld Border Museum
BOOK GIVEAWAY – BOOK GIVEAWAY – BOOK GIVEAWAY

Tangerine Press have kindly provided 3 copies of Never Mind, Comrade, to give away!

To be in with a chance to win a free copy of the book you will need to do at least one of the following before 2300 BST 28th Aug 2022:

** Winners will be selected randomly w/c 30th Aug 2022. If you are a winner You will be notified directly if you have won. Please note if you are a winner your details will be passed to the publisher to facilitate book delivery. Delivery of the book may be subject to small customs fees. Good luck!
Support the Podcast and get access to exclusive extra content here